Tim Crouch isn't mad, but he will get his revenge on you. In this one hour rapid-fire one-man court jester show, Crouch takes on the character of Shakespeare's Malvolio from the insane play,
Twelth Night
. I studied (and performed in an adaptation) of this play for a Shakespeare class up at UBC, so I was somewhat familiar with the story. You don't really need to be well-versed but I would recommend a quick glance at the Wikipedia entry just to familiarize yourself.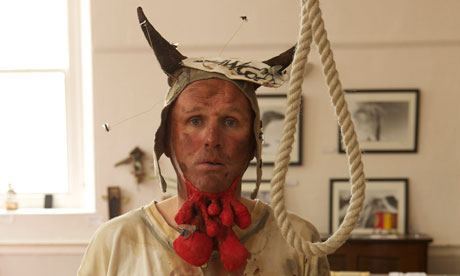 Otherwise, you'll get the entire sordid story told to you by Malvolio, who is locked up for being insane. His description of the story comes out as completely ludicrous, but if you do know the story of Twelth Night, you'll know that everything he describes is accurate.
Now I wasn't expecting to be on stage again, as I had hung up my Twelth Night stockings back in my university days. However, last night I was dragged into the spotlight to help Mr Crouch put on his shoes. Yes, you heard me. It was rather unsettling too, as I had to crouch before Crouch, offer him his shoes and help him get into them while he yelled instructions at me - in front of the entire audience.
I wasn't the only "victim" of his act, as he pulled several other unsuspecting audience members out of their seats and onto the stage. Got a chocolate bar to unwrap? Best do it before the show begins otherwise you'll be mocked mercilessly. And don't even bother trying to show up late. He breaks down that fourth wall and invites the audience in to experience theatre at uncomfortable levels, all the while entertaining and making pointed observations about life, theatre, and society.
I, Malvolio
is part of the
PuSh International Performing Arts Festival
and is on at
The Cultch
now until February 10.