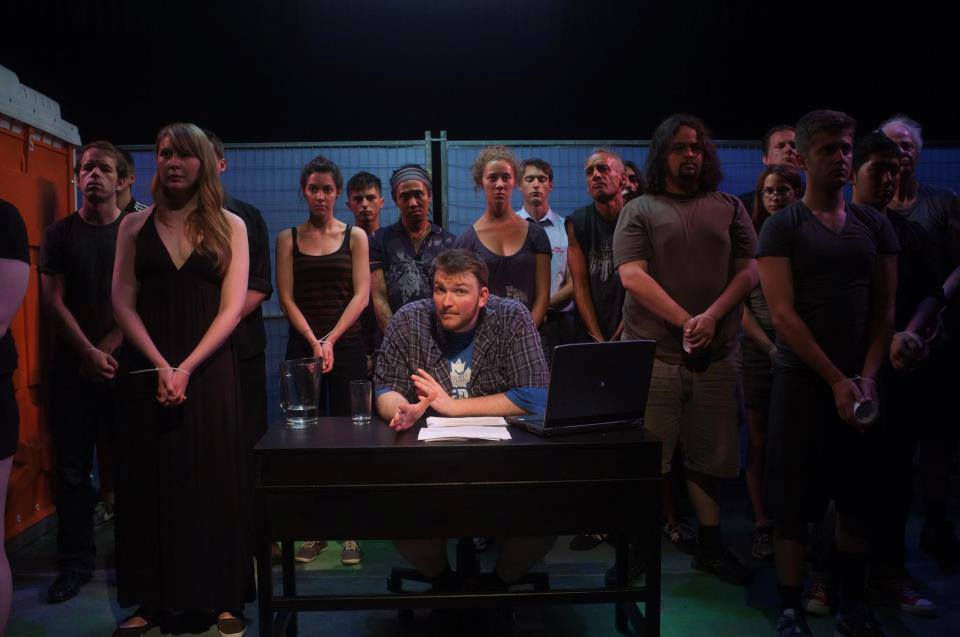 The Firehall Arts Centre opens up their new season with Tommy Taylor's
You Should Have Stayed Home
, subtitled "a G20 Romp!" It recounts the real life story of when writer and performer Tommy Taylor found himself amidst the G20 protests in Toronto and the resulting consequences of him being there, namely getting arrested and being held over the weekend at a pop-up detention centre.
Told in one Act and in multiple "parts," the show took its time for me to get going. I didn't get fully engaged until Part Seven of the story, which is around the time when something actually happens on the stage. For the most part, we find Tommy sitting down at a desk and speaking to the audience as though in a lecture hall. For this I blame director Michael Wheeler for choosing this way to go. When I was in play-writing classes at UBC, one of our assignments was to work with a director on getting one of our works performed. I received a Fail for my collaboration because I basically let the director pull all the strings, and she made the decision to make all the characters sit down. My instructor at the time told me that making your actors sit really takes the energy away from a scene. That has always stuck with me, and so when I watch shows where characters are sitting, I often ask myself if it added to the scene or took away from it. In the case of You Should Have Stayed Home, I found that because there was already such little action going on, having our lead sit for the majority of the piece made me somewhat bored to be there.
I do understand that it's the story and the words that are the main focus. I kept thinking that this would have been a great podcast to listen to. Visually, it wasn't until halfway into the show that I perked up when a group of actors filed in to join Taylor on stage, as fellow detainees. (Audience members are asked if they want to come back and volunteer to be a detainee in future performances, which is a fun idea!)
The friend I took with me to the show had major problems with the subject matter. As a Caucasian female, she had trouble feeling any sort of sympathy for Taylor and his experience. She was infuriated by references to Auschwitz, Guantanamo Bay, and calling the experience the worst compromise of civil liberties in Canadian history. "What about residential schools, racism against Chinese railroad workers, the Japanese internment camps? Wow I'm so sorry that as a straight White Canadian male, you had to go through this moment of suffering and that your cheese sandwich had soy butter on it and not real butter." She was more than appalled.
I can kinda see her point, but I can also see that this was definitely an injustice and a dark event for Canada, and continues to be. When the show began, I felt like it was going to be the Big Bad Cops vs poor innocent Tommy, but he does manage to find a balance between the two. It was definitely an eye opener and an insight into the events of that infamous weekend. It's exciting when theatre pushes buttons and creates dialogue and gets audience members leaving the theatre thinking and debating. You Should Have Stayed Home manages to deliver on that scale.
You Should Have Stayed Home runs at the Firehall Arts Centre until October 5.