From one of the brothers who brought you the original Grey Gardens comes another documentary about another New York lady. It's
IRIS
, directed by Albert Maysles.
I had never heard of her before, and what an amazing person she is! Her sense of style and fashion are enviable. Her sweet demeanor and the love she shares with her 100 year old husband is adorable. At 90 years old, she is going strong and I hope to run into her the next time I visit New York just to say how fabulous I think she is.
I tried to go see the first few showings of this but they were completely sold out. I finally got to see an added screening of it, and even that was packed! Thankfully, there are even more screenings in July!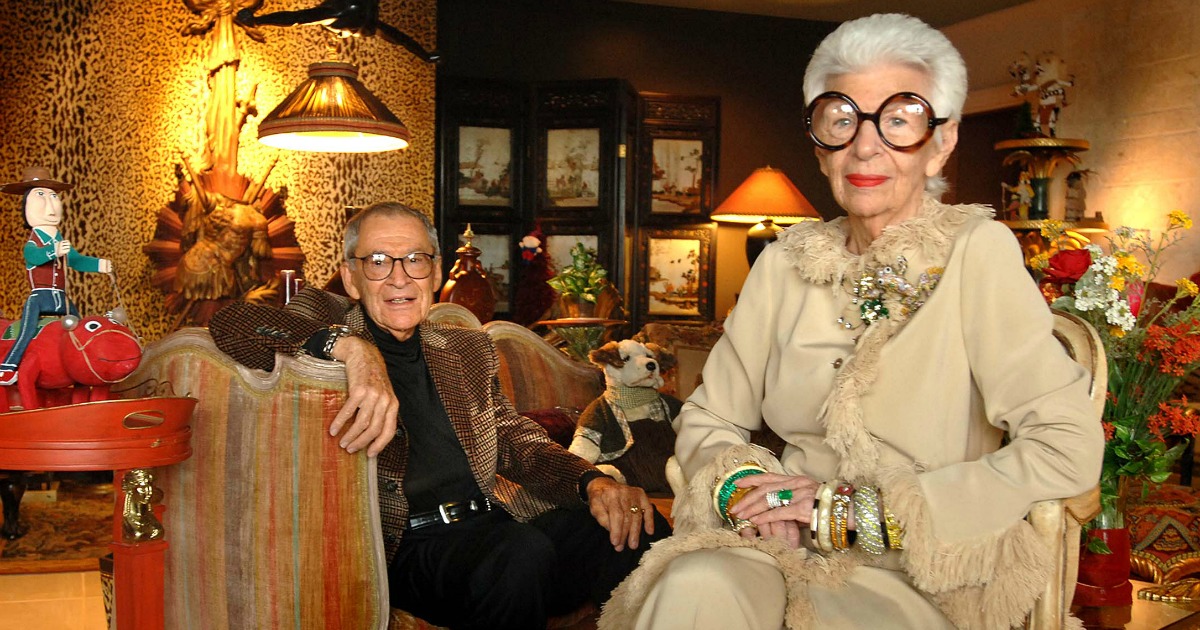 Here's the description of the film from the VIFF site:
Meet Iris Apfel, doyenne of New York fashion, and more importantly an indomitable and inspiring life force well into her ninth decade. Quick-witted and always flamboyantly dressed, Iris retains her enthusiasm for fashion, art and people. Despite the abundance of glamour in her current life, she continues to embrace the values and work ethic established during a middle-class Queens upbringing during the Great Depression. "I feel lucky to be working. If you're lucky enough to do something you love, everything else follows."

"Iris' creativity lies not in inventing anything new, but in her startling assemblages of found objects. Her illustrious career as an interior designer included consultations with multiple successive inhabitants of the White House (her unspecified "problems" with Jackie Kennedy are allowed to pass in charged silence), while offbeat items stored in a massive Long Island City warehouse reflect a long, varied history of catering to more adventurous upscale clients.

Carl's 16mm footage and Nikon-shot still photographs document the couple's twice-yearly globetrotting shopping trips to out-of-the-way bazaars, flea markets and assorted outposts in search of the eye-catching and off-kilter. A priest's vestments, for instance, might be bought and repurposed as loungewear. Maysles captures Iris' present-day shopping expeditions as, squired by designer Duro Olowu, she ventures into no less esoteric, off-the-beaten-path venues in Harlem, whose neighborhood churchwomen's "Sunday best" she emphatically favors over the uniform black paraded in Soho.
Iris' love of craftsmanship, which she sees disappearing under a flood of homogenization and conformity, led her and Carl to found Old World Weavers, a actory that reproduced unique 17th-, 18th- and 19th-century fabrics and designs — well known, as was Iris herself, within the trade. But it took a 2005 exhibition at the Metropolitan Museum of Art, titled "Rara Avis: The Irreverent Iris Apfel," spearheaded by fashion scholar Harold Koda, to transform her, in her own wry epithet, into "an octogenarian starlet" and to elevate her "improvisations" to the status of wondrous creations." Ronnie Scheib, Variety

"A joyous celebration of creativity and razor-sharp wit sustained into old age, as evinced by outspoken nonagenarian fashion icon Iris Apfel." Variety
IRIS
is on at the Vancity Theatre on July 5, 11, 13, 15, 16, & 18! Don't miss out!!